As the largest clinical and research Congress in the field, the World Congress on Osteoporosis, Osteoarthritis and Musculoskeletal Disease is the ideal venue to showcase your research. 1.259 abstracts were submitted for the 2016 edition of the WCO-IOF-ESCEO in Malaga! This number of Abstracts is the largest ever recorded since the beginning of the Congress.
Abstracts will be published in Osteoporosis International. Top abstracts will be selected for oral presentation.
ABSTRACT BOOK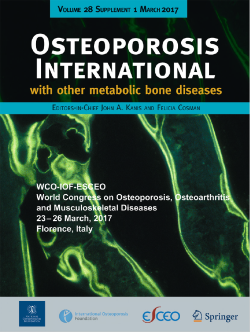 The congress chairmen are honoured to announce that 1.436 abstracts were submitted for this 2017 edition of the WCO-IOF-ESCEO! This extraordinary number of abstracts is the largest ever recorded since the beginning of the Congress.
We invite you to discover the abstracts selected for the WCO-IOF-ESCEO before the beginning of the congress by accessing the Abstract Book under this link.
You will also receive the Abstract Book on a USB card during the WCO-IOF-ESCEO Congress that will be held at the Fortezza da Basso, in Florence, Italy on March 23-26, 2017.
The Abstract Book will be published as a supplement in the Volume 28 Supplement 1 of Osteoporosis International.
ONLINE SUBMISSION
Submissions for this congress are closed.
GUIDELINES
Click here to access the guidelines
POSTER SESSIONS INFORMATION
Detailed programme available soon.
POSTERS GUIDELINES
Poster dimensions = 80 cm (width) by 100 cm (height).
Please note: vertical positioning only, NO "landscape" layout.
Please keep in mind that at least the presenting author should be duly registered to the meeting.
ONLINE ABSTRACT SUBMISSION PROGRAM TERMS OF USE AGREEMENT
1. By submitting an abstract, you represent that you own or otherwise have rights to the written summaries of research or observations ("Abstract") provided by you to WORLD CONGRESS ON OSTEOPOROSIS, OSTEOARTHRITIS AND MUSCULOSKELETAL DISEASES, (hereafter "WCO-IOF-ESCEO") utilizing the submission site.
2. WCO-IOF-ESCEO acknowledges and agrees that as between WCO-IOF-ESCEO and you, you own all right, title and interest of any nature, throughout the world, in and to the Abstract, including any copyright registration or applications for copyright registrations relating thereto anywhere in the world.
3. You grant to WCO-IOF-ESCEO a non-exclusive, perpetual, sub-licensable, worldwide, right and license (or sublicense, as the case may be) to use, copy, modify, reproduce, publicly display, publicly perform, transmit, distribute or otherwise make available the Abstract in any form or format, including without limitation, through the Internet on various websites of WCO-IOF-ESCEO and WCO-IOF-ESCEO 's licensees or WCO-IOF-ESCEO's affiliates, intranets, CD-ROM, and any other technologies whether now known or developed in the future; and to permit end-users to copy, display and print it for their own personal or business use (but not for resale by any such end-user). WCO-IOF-ESCEO will not edit or modify the content of the Abstract, but may modify the format to fit the look and feel of the media on which it is displayed or distributed.
4. You agree that WCO-IOF-ESCEO may delete your Abstract from the WCO-IOF-ESCEO Database at any time without prior notice and without refund of any fees to you.
5. THIS WEB SITE AND THE MATERIALS ARE PROVIDED ON AN AS-IS BASIS WITHOUT ANY WARRANTY OF ANY KIND, EITHER EXPRESS OR IMPLIED. TO THE FULLEST EXTENT PERMITTED BY LAW, WCO-IOF-ESCEO AND WCO-IOF-ESCEO'S AFFILIATES AND WCO-IOF-ESCEO'S SUPPLIERS DISCLAIM ALL WARRANTIES, EXPRESS OR IMPLIED, INCLUDING, BUT NOT LIMITED TO, ANY WARRANTY OF MERCHANTABILITY, NON- INFRINGEMENT OR FITNESS FOR A PARTICULAR PURPOSE. In no event shall WCO-IOF-ESCEO or any of WCO-IOF-ESCEO's affiliates or WCO-IOF-ESCEO's suppliers be liable for any damages whatsoever (including, but not limited to, direct, indirect, incidental, consequential, punitive or exemplary damages, or any damages for loss of profits, use, data, goodwill or other intangibles) arising from or in any way relating to these terms of use, the materials, or any information, goods or services obtained from or referred to in the materials, whether based on warranty, contract, tort (including, but not limited to, negligence), or any other legal theory, and whether or not advised of the possibility of such damages. Some states do not allow the exclusion of implied warranties or the exclusion or limitation of incidental or consequential damages, so such limitations or exclusions may not apply to you.
6. These Terms are governed by the internal laws of the State of Minnesota. You agree that any action arising out of or in any way relating to these Terms may be brought only in a court of competent jurisdiction in the State of Minnesota, and you hereby consent to the jurisdiction, venue and convenience of such courts. Any waiver of any provision of these Terms will be effective only if it is in writing signed by the WCO-IOF-ESCEO. No waiver of any provision of these Terms shall be deemed a further or continuing waiver of such provision or any other provision. If any provision of these Terms is found to be invalid, void or unenforceable by any court having competent jurisdiction, the remainder of these Terms shall remain in full force and effect.